If you want to improve your indoor air quality and are looking for an air purifier that can fit into any room of your home, the small-size Clarifion – DSTx Portable Air Purifier might be a very good option for you. It has the ability to clean up the air in your home and provide a healthy and comfortable environment. This blog post will further clear your mind on the Clarifion – DSTx Portable Air Purifier.
Clarifion – DSTx Portable Air Purifier for your Home
Clarifion – DSTx Portable Air Purifier uses a dual technology that may help reduce airborne dust, smoke, pet dander, and odors and may help improve the air in any room. This air purifier is a must-have for the house and travel.
The Clarifion – DSTx has a built-in Carbon filter that captures all of the particles in the air and traps them inside so they can't get back into your lungs or eyes. While it's not for large rooms, it's perfect for a bedroom, bathroom, or any other room in the house where you want to help with allergies or just filter and purify the air.
Clarifion – DSTx Portable Air Purifier: Is it Worth a Try?
The Clarifion DSTx Portable Air Purifier is a compact device that can be used at home or on the go. It features an easy-to-use remote control, which allows you to set the type of air purification you want for your specific needs.
You can also use the Clarifion DSTx Portable Air Purifier in public places where there are high concentrations of pollutants such as in offices, schools, and hospitals—or anywhere else where you would like to improve indoor air quality without spending much money on equipment or hiring professionals who specialize in this area (which can sometimes be very expensive).
I'd say this air purifier is worth a try because it has so many different features at a really affordable price. Let's have a quick look at the specs which makes the DSTx Air purifier super worthy of its cost:
Dual Technology:
While most small room Air purifiers like the Pomoron DH-JH 01 use only a HEPA Filter, The DSTx by Clarifion uses both Ionizer and a HEPA Filter at the same time. This dual technology effectively captures harmful indoor air particles and provides purified and healthy air to breathe.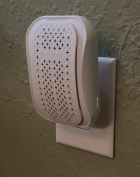 3- Layer Purification System:
The Clarifion DSTx features an incredible 3-Layer purification system that helps eliminate air contaminants. This includes:
HEPA filter
Carbon infusion
Ionizer
The HEPA filter is efficient in removing allergens, dust mites, pet dander, and other airborne pollutants from the air. The HEPA filter has an activated carbon layer in it. This carbon infusion traps and removes unpleasant odors, VOCs, and other harmful gases from your surroundings and provides a healthy and pleasant atmosphere.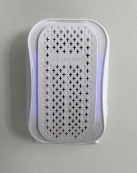 The Clarifion DSTx also has a negative ionizer that emits negative ions in the surroundings. These ions adhere to allergens, dust, and other pollutants in the air and cause them to settle to the ground.
Whisper-Quiet Operation:
The DSTx Portable Air Purifier works at low noise levels at a low fan speed setting. It is ideal for those who have children or pets and want to enjoy a good night's sleep without any disturbance. This air purifier has a dual fan speed. You can adjust the high and low speeds of the fan according to your requirements.
Portable and Easy to Use:
Did you know that most small air purifiers weigh up to 3 Kg? But that's not the case with this Air purifier. The DSTx air purifier is portable and lightweight. It weighs only 250 grams. It can easily be carried from one spot to another.
The Clarifion DSTx is also very easy to use. Just Plug the device into a socket and it will start purifying the air inside your room.
How Does it Work?
The Clarifion is a small, portable air purifier that uses negative ion technology and HEPA filtration to remove allergens, particulates, and other harmful substances from your home. It also has built-in UV lights for killing germs and bacteria.
The Clarifion uses powerful ionization technology to remove odors from the air.
How Effective is the Clarifion DSTx Portable Air Purifier?
This air purifier is designed to help you breathe better at home or in the office. It's small, portable, and easy to use. The Clarifion DSTx Air Purifier comes with a built-in ionizer and a HEPA Filter that helps remove pollutants from indoor air by creating negative ions and trapping them in the HEPA Filter.
The Clarifion DSTx Air Purifier has been tested in independent laboratories around the world; all results showed that this product is an effective way of removing harmful toxins from your indoor environment without any negative side effects on your health.
The device can be moved around the room if necessary so it can reach all areas where there are high concentrations of dust particles or pollen grains which cause allergic reactions such as hay fever symptoms when inhaled over long periods of time.
DSTx is Suitable for an Area of Up to 300 sq. ft.
DSTx is a personal air purifier, which means it can be used in rooms that are up to 300 square feet. This makes it a good choice for people with allergies or asthma.
The Mini Air Purifier for your Home has an output of 2,200 cubic feet per minute (CFM) and will remove odors and pollutants such as formaldehyde, benzene, xylene, and trichloroethylene.
What Does it Cost?
The Clarifion DSTx Portable Air Purifier is available for purchase at Amazon for $39.99. It has a 1-year warranty and comes with a USB cord, air filter, and a filter replacement reminder.
The Clarifion DSTx Portable Air Purifier weighs just over 250 grams, making it light enough to travel with or set up in your room at home when you need fresh air.
What we didn't liked about the DSTx air purifier:
The only thing I didn't like about this unit is how loud it is at a high fan speed setting. It's not loud enough for me to have on all night but it could get annoying if someone else was staying over or something like that so make sure you know what kind of noises might bother other people before purchasing this unit!
Pros and Cons of the Clarifion DSTx
Pros
It is cheap and affordable
Easy to use
No frequent maintenance is required
Efficient for small rooms
It is portable and can be easily carried from one place to another
Cons
It does not provide a wide room coverage area
Vacuum cleaning might be required for cleaning surfaces
It produces harmful ozone gas
Final Thoughts and Verdict on the Clarifion DSTx Portable Air Purifier
If you're looking for a small, portable air purifier that will remove odors and particles from your home and environment, the Clarifion DSTx Portable Air Purifier is a good option. It's not the absolute best out there but it works well enough to keep up with most people's needs.
It also has some great features including:
Removes VOCs (volatile organic compounds) from indoor air
Comes in four different colors (white, blue/green/pink)
Clarifion's DSTx is a personal, portable air purifier that could come in handy if you have allergies or need help for better breathing.
It's small and easy to clean, so it's ideal for those who travel frequently or work from home. The unit can be used as a whole-house air purifier and it also works great as an air purifier for your car or office space.
Conclusion
The Clarifion's DSTx is a portable air purifier that can help you breathe easier and enjoy your home's atmosphere. It's small enough for travel but effective enough to make a difference in the office or apartment.
This air cleaner prevents you from the hassle of frequently maintaining and replacing the air filters. Moreover, if you want an air purifier for a small bedroom, kitchen, or bathroom then this air purifier will be perfect for you and your loved ones.
James Martin is a passionate writer and the founder of OnTimeMagazines & EastLifePro. He loves to write principally about technology trends. He loves to share his opinion on what's happening in tech around the world.