In the digital age, it's easier than ever to record beautiful moments and share them with everyone. But sometimes unwelcome things end up in our photos, which takes away from the general appeal of the picture. Whether it's a photobomber, a random item, or something ugly in the background, these things can take away from an otherwise great picture. Now that technology has improved, we have access to powerful tools that make it easy to eliminate these distractions. The Object Remover is one of these tools.
Object Remover: what is it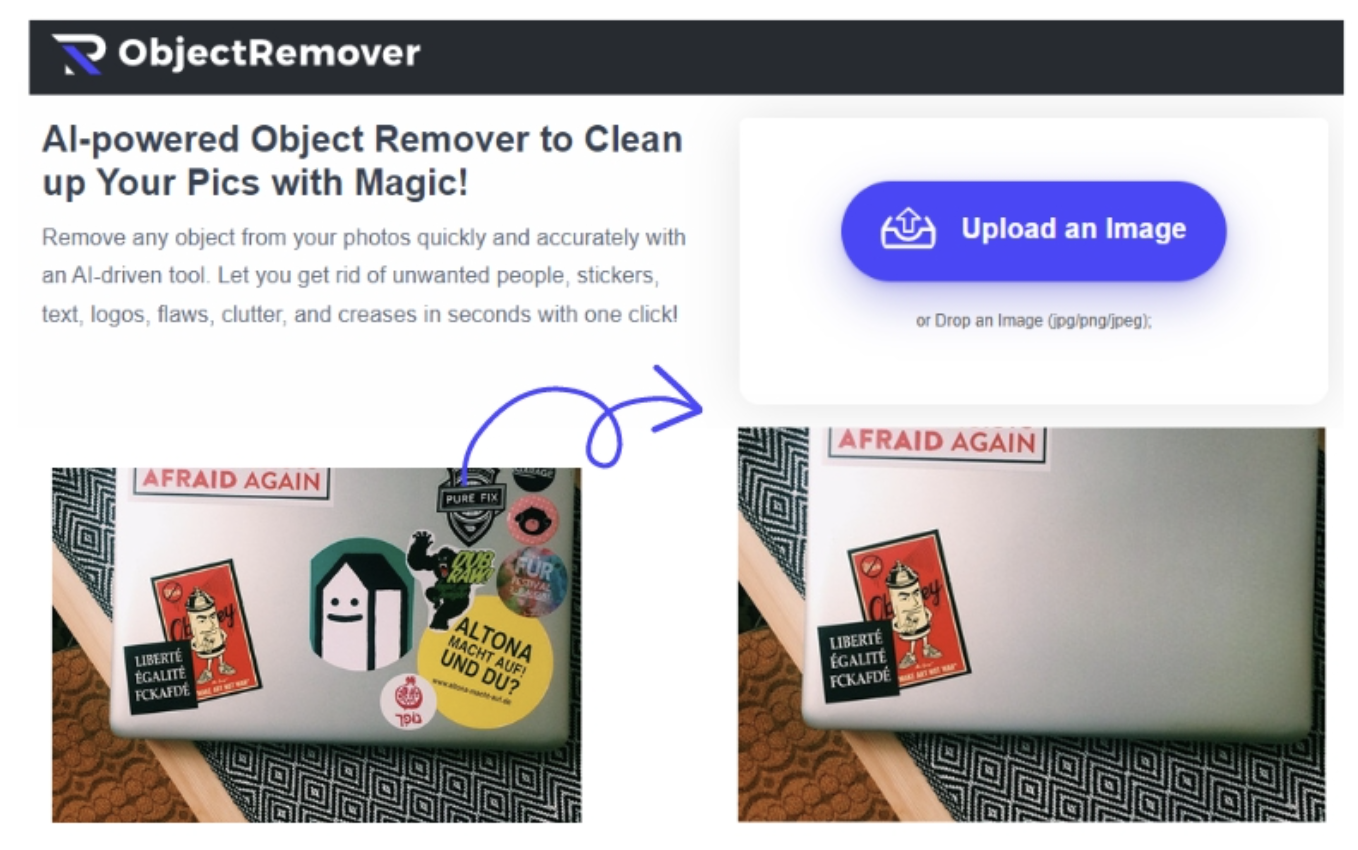 The Object Remover is a new tool that makes it easy for photographers, hobbyists, and even casual users to remove unwanted objects that don't belong in their photos. Whether you're a professional photographer trying to get everything right or a regular person who wants to improve their shots, this tool can save you time and effort while giving you excellent results.
Object Remover can remove many elements from a photo, including text, watermarks, logos, signatures, spots, clutter, weird color, emoji, people, buildings, animals, and more. This image cleaner using artificial intelligence to process your image in seconds. You don't need to learn any complicated editing skills before using it, The workflow of Object Remover is straightforward.
How does Object Remover work?
Object Remover employs advanced algorithms and artificial intelligence technology to analyze and remove unwanted objects from images. With its automated process and intelligent blending techniques, the platform offers a simple and efficient solution for eliminating distractions, resulting in clean, visually appealing photos.
When you upload an image to this website, it analyzes the photograph and identifies the unwanted objects or distractions present. These could include people, signs, and power lines, or any other elements that detract from the overall composition. The AI algorithms then work to understand the context and texture of the image to ensure accurate removal.
Once the unwanted objects have been identified, the platform's intelligent algorithms begin the process of removing them. The system carefully analyzes the surrounding pixels and intelligently fills in the gaps left by the removed objects. It considers factors such as lighting, colors, and textures to blend the image and create a natural-looking result seamlessly.
What kind of things can be removed by Object Remover?
Remove people
Have you ever taken a great picture of a scenery or building only to have people get in the way and ruin it? With the Object Remover, it's easy to get rid of people from your pictures, putting the focus on the beautiful scenery or architecture. Just brush over the person, and the Object Remover will remove them from the picture without leaving a trace, even if they accidentally walked into the shot.
Remove text
Text or unwanted signs can sometimes get in the way of your pictures and take attention away from the main subject. With the Object Remover, it's easy to get rid of text from your pictures, making them look cleaner and more appealing. Whether it's an ad, a street sign, or a text you don't want, the Object Remover can get rid of it, leaving you with a photo that looks cleaner and more professional.
Remove Clutter
Most of the time, a photo's main subject gets lost in a busy background or an unnecessary item. With the Object Remover, it's easy to get rid of unnecessary things. and make a composition that's more focused and looks better. Whether it's stray twigs, trash, or other things that get in the way, you can just brush over the cluttered areas and watch as the Object Remover cleans them up and makes the image look better.
Remove Skin Defects
When it comes to portrait photos, blemishes or other flaws on the skin can sometimes be distracting. The Object Remover can help you get rid of blemishes, get rid of acne, or make wrinkles look less noticeable, giving your pictures a more professional look. With just a few clicks, you can make your subjects' faces look better and take beautiful portraits.
Remove Sticker & Emoji
It has become popular to add stickers or emojis to photos. But there may be times when you want to eliminate these extras from your photos. The Object Remover makes it easy to get rid of things that don't belong in your picture, like a sticker that was put there by accident or an emoji that doesn't go with the rest of it.
How to Remove Objects from Your Photos
Step 1: Upload the picture
Access to the website of Object Remover. Click the "Upload an image" button to upload an image you want to process with this image cleaner. The image can be in jpg and png formats.
Step 2: Mark the Object
Once the image is ready, mark the object you don't want in the photo. Object Remover offers a convenient brush tool to help you mark the object. Drag the slider to adjust the brush size accordingly to guarantee the correct selection.
Step 3: Automatic Object Removal
Make sure you have selected all parts that need to be removed. Then click "Erase" to let Object Remover remove unwanted objects from your photos with automatic workflow. The process may take a few seconds.
Step 4: Download Photo Cleaned Up
Once the object removal procedure is finished, save your altered image as a PNG file. You may save the final output to your smartphone using the download option.
The Uses of an AI Object Remover
E-Commerce Product Photos:
Present your products in the best light by removing distracting elements from your photos. With Fotor, you can clean up backgrounds, eliminate unwanted reflections, and ensure that your products take center stage.
Travel Photography:
Capture breathtaking landscapes and cityscapes without worrying about unwanted tourists or distractions. Fotor's AI image cleaner allows you to remove people, vehicles, or any other elements that detract from the beauty of your travel photos.
Portrait Editing:
Clean up pictures of people by removing blemishes, stray hairs, or other imperfections. Enhance your portraits and create flawless, magazine-worthy images with Fotor's AI-powered tools.
Landscape Photography:
Sometimes, nature doesn't cooperate with your vision. Remove unwanted elements such as power lines, garbage, or other distractions to create stunning landscapes that showcase the beauty of the natural world.
Real Estate Imagery:
Clean up pictures of properties for real estate listings by removing clutter, personal items, or any other distractions that may hinder potential buyers from focusing on the property's features.
Old Photos Restoration:
Preserve and restore old family photos by removing scratches, dust, or other signs of aging. Fotor's AI image cleaner can breathe new life into your cherished memories.
Conclusion:
Never let unwanted passersby or objects ruin your perfect shot again! With Object Remover, you can effortlessly clean up pictures perfectly. The entire process is easy. Just brush over the areas you want to clean up, and Object Remover will take care of the rest. This tool covers whether you want to remove people, cluttered backgrounds, text, or other distracting elements from your pictures. Try it out to create flawless pictures with ease!
James Martin is a passionate writer and the founder of OnTimeMagazines & EastLifePro. He loves to write principally about technology trends. He loves to share his opinion on what's happening in tech around the world.