Maybelline Fit me Foundation Price in Pakistan, Updated 2022:
In this blog, You'll find about the Maybelline Fit me foundation price in Pakistan and other details, in particular, the 100 Series. Also, I have listed some alternative foundations to the fit me foundations that are going to suit your daily makeup care. Furthermore, You can find the 5 Best foundations in Pakistan here.
Maybelline New York is an American Cosmetic brand based in New York with a business spread across 120 countries and 1000+ Makeup shades to date. The company is known for its diversity, on-the-go easy makeup for every look, style, and Skin tone with a primary goal to protect your Precious skin from all kinds of dust and Pollution one can face living in a Lively City.
Maybelline fit me Foundation Price in Pakistan: PKR 400 to 2000
Affiliate Disclaimers: This post may contain affiliate links, for more details tap/click here
The Fit me Matte and Poreless Foundation is a luxury foundation prepared by Maybelline New York for all types of skin problems. The 100 Series is typically considered best for Eastern Skin comprising Clay as the main ingredient, Best for Medium and Light skin tones, and a Matte Finish. Smooth in texture, flawless in the finish, and perfectly natural looking on all skin tones, The Fit Me collection is your very best skin day, bottled. This collection is all about matching your individual skin tone and texture thanks to a huge range of skin-twinning shades and texture-enhancing formulas! The Ivory Foundation is effective on the eastern Yellowish skin types.
10 Best foundations in Pakistan
Fit me Foundation Price in Pakistan:
The Price of Fit me Matte and Poreless Foundation ranges from PKR 450 to PKR 2000 with the recent increases in different import duties and other related duties. Here are EIGHT of the products available in Pakistan, as Pakistan is not included in the Countries in which Maybelline offers its products.
1: Fit Me Matte & Poreless Foundation -100 Warm Ivory Shade
The first one is the Fit me Matte and Poreless 100 Warm Ivory. This Particular foundation is best for Normal to Oily fair skin with a yellow undertone. The Fit me Matte and Poreless liquid foundation can make visible pores disappear with regular use.
2. Fit Me Matte & Poreless Foundation -102, Fair Ivory
The 2nd shade we have is the 102 Fair Ivory Shade. This Foundation helps Fair skin wear a Pink undertone. This foundation is Normal for Oily skin and also includes clay The Fit me 102 Fair Ivory is one the best foundation for party makeup as it leaves a long-lasting effect.
3. Fit Me Matte & Poreless Foundation -104, Soft Ivory
Best Price in Pakistan: PKR 1280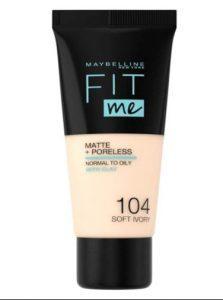 Next, we have the 104 Soft Ivory Fit me Foundation by Maybelline New York. This Foundation is best for Light skin tone and is a neutral to yellow undertone meaning can be used to wear a light skin color makeup for Daily use.
4. Fit Me Matte & Poreless Foundation -105, Natural Ivory
Best Price in Pakistan: PKR 1280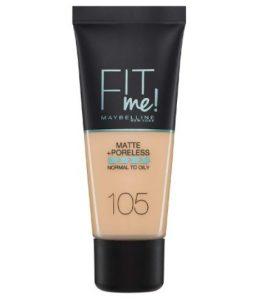 The Natural Ivory is a liquid foundation with a matte finish and light-medium coverage Foundation is recommended for very light or light skin tones with yellow, moderately yellow undertones. This works very well on Light Skin tones and is perfect for day-to-day Use.
5. Fit Me Matte & Poreless Foundation -110, Porclean
Best Price in Pakistan: PKR 1280
The Fit me Matte And Poreless 110 Proclean Foundation is best suited for Normal/Oily skin with a makeup coverage of up to 12 hours. This Ultra-blended liquid foundation contains blotting micro powder and lightweight blurring powders which target the visible pores effectively.
6. Fit Me Matte & Poreless Foundation -115 Ivory:
Best Price in Pakistan: PKR 1280
Another Product by the Maybelline New York Fit me Series available in Pakistan is the 115 Ivory. This particular shade is Liquid Matte recommended for Light and deep Medium skin tones with pink, moderately pink undertones.

7. Fit Me Matte & Poreless Foundation -120, Classic Ivory

Best Price in Pakistan: PKR 1280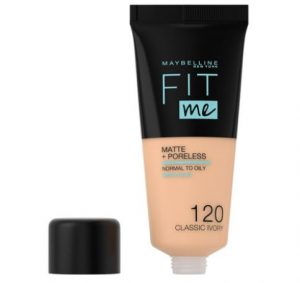 Next in line we have the Maybelline Fit me Matte and Poreless 12 Classic Ivory Foundation which is a liquid matte foundation that covers all medium skin tones with a neutral undertone and is best for Oily and Natural Skin. This Powerful makeup foundation is non-sticky, leaves no shine, and has a matte finish with a long-lasting effect of up to 12 hours.
8. Fit Me Matte and Poreless Foundation – 130 Buff Beige
Best Price in Pakistan: PKR 1280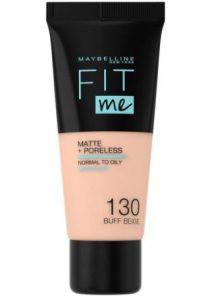 The 130 Buff Beige is a warm shade and is a top-of-the-line Fit me Foundation with Matte Finish. This one is also best for Medium skin with a neutral undertone, which refines the pores and leaves a seamless non-shiny soft skin. Best for day-to-day outdoor use.
Is Maybelline Fit Me a good foundation?
The Fit Me foundation is definitely a fantastic foundation. The Maybelline foundation is one of the best as it comes in many different shades that can match a wide array of skin tones. You can look for Fit Me foundation shades for fair skin as well as Fit Me foundation shades for medium skin.
5 Best and Cheap Alternatives to Maybelline Fit me Foundation:
Since the Makeup industry has a huge following, Users, and a Never-ending room for improvement, you can always find a cheap alternative to expensive makeup brands. Also Purchasing and Using local products can help grow the local economy, Build trust and improve quality. Below I have picked some cheap alternatives that can replace the Fit me Foundation in your makeup bag.
The L'Oreal brand is a renowned Brand used widely across Pakistan and all over the World. The True Match Super-Blendable liquid foundation is perhaps one of the best foundations used. This Blendable foundation can Perfectly match any skin color and texture. It also comes with SPF 17 sun protection and Vitamin E for skin protection.
Best Price in Pakistan: PKR 470 for a 30ml Bottle
Another alternative is the MRC brand makeup base liquid foundation. This long-wear bright foundation has tons of benefits at a lower price. The MRC foundation can act as a BB whitening cream concealer, Moisturizer, and Oil controller. Perfect for all skin types, This Foundation can be used for day-to-day skin care.
Best Price in Pakistan: PKR 600/ 30ml
Moving down the list, we have the Rivaj UK Perfect coverage mineral long-wearing foundation. This foundation also has a coverage of 12 hours with a bright finish. Other features this foundation has to offer to include Oil-free Matte with SPF 8 sun protection. Rivaj UK is a unique and trusted brand that offers premium quality cosmetics.
Best Price in Pakistan: PKR 730
For the 2nd last alternative, I have picked up the Premium Oriflame THE ONE Everlasting Foundation with SPF 30 sun protection. This is the best alternative to the Fit me 130 Buff Beige Foundation. Equipped with a neutral shade, this Foundation is fade, sweat, and Water Proof. It has a semi-matte finish with unique skin Response technology.
Best Price in Pakistan: PKR 2150
Last we have the High-Quality MAC BB matt Foundation. This Foundation has a matte finish and comes with SPF 17- PA ++ Sun protection. This also has the qualities of a Vitamin C Serum and includes Hyaluronic Acid. With a Price of only PKR 280, This foundation is one of the cheapest in the market.
Best Price in Pakistan: PKR 280
Fit me Base price in Pakistan
The price of fit me base in Pakistan is PKR 600.
Things to Look into:
Thanks for Reading. Share and Comment Below. :))
James Martin is a passionate writer and the founder of OnTimeMagazines & EastLifePro. He loves to write principally about technology trends. He loves to share his opinion on what's happening in tech around the world.