For many homeowners, the kitchen is a sacred space that must look and feel a certain way. This means it needs functionalities and, at the same time, has a contemporary design. Mostly, when selecting designs for your kitchen space, homeowners tend to miss out on the minute and crucial elements of the kitchen, which can influence a kitchen space to a large extent. The detail is kitchen taps. In the past decade, kitchen taps have evolved like no other. They come in various forms and sizes. From the basic tap fixtures and sprays to very aesthetically pleasing taps, kitchen taps now can elevate your kitchen's interior appeal. 
This article will discuss all the kitchen faucets and tap types you can pick to make your kitchen look a certain way. 
Pull down faucets
A popular kitchen faucet design, the pull-down tap is a bestseller for its practicality and its modern aesthetics. These taps have a hose that can be pulled, adjusted and extended. This allows you to reach out to different parts of the sink and, at the same time, make your tasks in the kitchen effortless. These pull-down faucets are available in Kohler and come in excellent, innovative designs. They are minimalist and, at the same time, woo the larger-than-life aesthetic lovers. Kohler's bestsellers are both traditional and contemporary designs.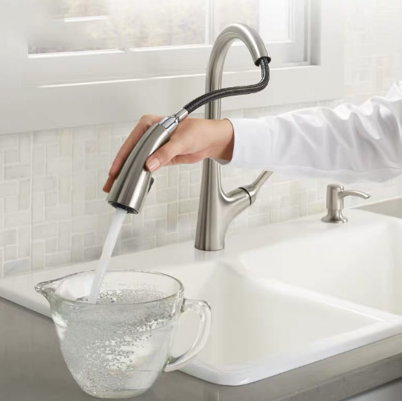 Sensor Taps
Sensor taps are the kitchen taps that have gained much traction in recent years. Consumers who are tech-savvy and love advanced technology prefer touchless and sensor taps. These are best for use when your hands are particularly dirty. Additionally, the sensor taps also help in conserving water, wherein these stops running automatically. Apart from the design, sensor taps also help children and senior citizens in the home use these taps comfortably and without much hassle. 
Bridge Taps
There are a great number of options when it comes to bridge faucets. It has two handles for the hot and cold-water supply. This design usually has a two or three-hole design for installation. These bridge taps come in every design and functionality, which makes it easier for homeowners to pick from a wide range. And lastly, these bridge taps serve perfectly if you're looking for extra space to do your dishes, especially the big ones, in the kitchen sink.
Industrial-Style Taps
The Industrial-style taps are the ones that come with a fine, utilitarian look. They mostly complement contemporary and minimalist kitchen designs. Interestingly, they add a bold and more unique statement to the overall look of your kitchen. Further, these taps come in robust designs and finishes like matte black, nickel and bronze, more representative of the industrial charm. 
Pot Filler Taps 
Pot filler taps are one of the practical additions to your kitchens. They are wall-mounted, designed for large pots and pans, which can be filled easily. These make cooking more efficient and ensure that your properly designed sink has amazing designs. 
Mixer Taps
The mixer taps are another versatile type for the modern and contemporary kitchen. The name itself suggests that there are two sources of water – both hot and cold – in this kitchen tap. Your mixer taps come in varied designs, from sleek and minimalist to traditional and vintage; they act as ornate and decorative designs. 
Kitchen taps are no longer just a functional feature in your homes but rather a statement piece. Today, these come in modern looks as well as vintage designs with excellent functionality. So, before you go ahead and select a design for your kitchen, make sure you understand the uses and what will suit you and your family best, and then finalize one. . Contact us at [email protected] or visit https://www.africa.kohler.com